Xmas around Europe II
In this time of the year we're eager to know about the traditions families around the world share when they are together at Xmas time. We would like to start a serie of little interviews with people of Europe telling us what they eat, read, sing and share. So, let's start and merry Christmas!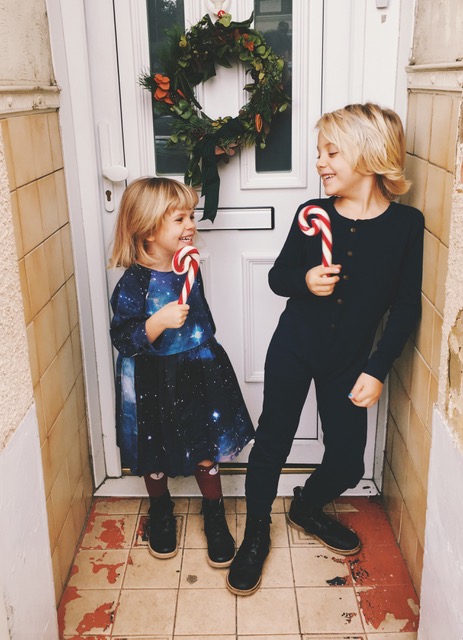 We are a little family living in North East London. I run my own cake business - Cake of Dreams - and my husband is a design director. We have two children - Pablo (8) and Indiana (5).
Xmas Essentials
XMAS book
Happy Winter by Karen Gundersheimer - we have the same copy now as I read as a child, and my kids both love it. It's about two sisters and their winter days & nights, playing in the snow or staying warm inside reading books and eating hot buttered toast. it always conjures up such specific memories. It includes the recipe for a chocolate cake that I can smell if I even think about it. We also love Lucy and Tom's Christmas by Shirley Hughes, which feels like the Christmases of my young childhood - it's very English.
XMAS song
Fairytale of New York by the Pogues feels like the beginning of Christmas. We also listen to lots of Motown and Gospel Christmas compilations whilst we do Christmas baking or decorating.
XMAS ornament
I'm a total maximalist so our tree has literally anything with a hook or cord attached hanging from it - from home made decorations to bows and bells and necklaces, glass cherries, toadstools and candy canes, and the fairy on top of the tree is a lady jumping out of a cake that my friend Lisa made me for my birthday one year.


XMAS food
For breakfast we have golden milk buns - http://thesquids.squarespace.com/blog/2017/2/9/golden-milk-buns they are cinnamony and spiced and warm. Or my grandmother's ginger biscuits, which magically appear in my stocking every Christmas morning and can be washed down ten at a time with endless hot tea.
Tradition as a child
Father Christmas brought us an entire pillow case of goodies, instead of just a stocking. My parents got a duvet cover each! Very 90s…
Tradition as a parent
Because it's my favourite thing to do Christmas always involves lots of baking - mince pies and pannetone, chocolate ginger biscuits and amaretto biscotti. We go to town on a gingerbread house each year. I have so many sprinkles and glitters and edible paints and glues from making cakes, we can make it look pretty fabulous. My favourite is painting loads of pumpkin seeds with edible glitter, you can arrange them in the most beautiful patterns. When we go to bed on Christmas eve we snuggle up in bed and read Twas The Night Before Christmas by Clement Clarke Moore.